CLICK ON FABOO'S PICTURE BELOW TO SEE HER PEDIGREE!
The Particulars on Faboo:
HEIGHT: 13 INCHES
COLOR: SABLE & WHITE
C.E.R.F. CERTIFICATION: FABOO WAS C.E.R.F. TESTED CLEAR OF P.R.A. AND OTHER HEREDITARY OR CONGENITAL EYE DEFECTS/ DISEASES IN APRIL, 2007. FORM CAN BE VIEWED UNDER FABOO'S PEDIGREE BY CLICKING ON HER PICTURE ABOVE.
O.F.A CERTIFICATION (PATELLAS): NORMAL/ CLEAR OF LUXATION.
O.F.A # CHC-PA181/12F/P-NOPI
Faboo is simply "Faboolous"! From the moment I first saw her picture I knew she would grow into a simply exquisite representation of the breed and of the "puff" variety. Though her breeder was quite inexperienced and did not know what she had in the litter and had done nothing with her parents in terms of showing, her pedigree and her budding conformation gave me a peek of the gorgeous creature she would become.
Faboo came to us beautifully prespoiled - a tradition we continued as she is now quite the "queen bee" of the household and the official "activities coordinator"
Faboo Debuted in the conformation show ring on June 24th & 25th and took Reserve Winners Bitch on both days! It was clear to us, however, during the practice that led up to the show, the show itself, and the weekly practice thereafter, that Faboo simply HATED showing. So much that she would vomit on the show ring floor. Her favorite part of showing was LEAVING the ring - not entering it. Though of fabulous temperament, this was just not "her thing". Some of the sweetest and most beautfiul animals are jsut simply not "show offs" and Faboo is one of those animals. She will play fetch all day and give you kisses until the end of time - never showing any hint of agressivenes or any other trait of a poor temperament but she is surely not into crowds of 1000+ people and 500-700 other dogs! It is not our position to force our kids to show when they obviously have no tolerance for it - no matter how beautiful or how conformationally correct, if a dog would rather throw up than attend a show, than that dog gets to stay home. Faboo is now the gorgeous and HAPPY Queen Bee and head activities director of our household.
Faboo at the June 24, 2006 Show
Reserve Winner's Bitch
What a pretty face!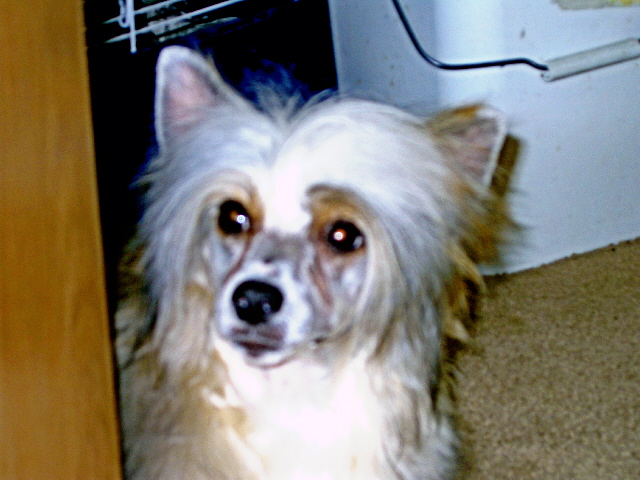 Get out of the way mom! You're blocking my sun!