The Future is Here!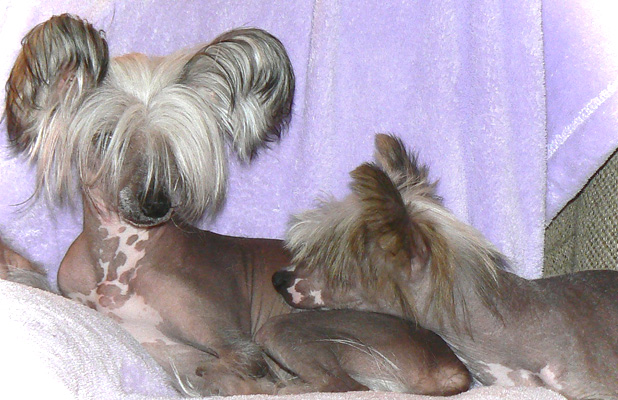 "D'Nude's Fate Stepped In" with 1/2 sister "D'Nude's Saving Grace"
I felt compeled, for many reasons, to write a page on the current goals and affirmations of D'Nude Chinese Cresteds and on our plans for D'Nude's future. These are things I like to know about other breeders and would like to take the opportunity to share about myself.
First, D'Nude Chinese Cresteds is a "kennel" only in the aspect that we have, produce and show Chinese Cresteds (and ONLY Chinese Cresteds) Our dogs live with us as beloved, involved and spoiled members of our family. Crating is used as a safe guard when we are not at home and for dogs who are not sleeping with us on a given night but only in that manner - at all other times, our cresteds share our home with us, go on regular outings and generaly share our lives in very much the same way as a child would. We have only a handful of these wonderful creatures so that each one can get the indivudual interaction with us that it needs, wants and deserves and that so they can live with us as a family unit.
Currently, we are in the process of setting our type and are concentrating on the Championship titles of our kids. Though it is not yet set in stone, I would very much like to see D'Nude's begin to add performance titles once championships have been obtianed. I believe a well rounded dog is an assett and a joy and look forward to leading D'Nude dogs in that direction in the near future.
In the meantime, we will continue to selectively breed a litter or two each year as we move forward in perfecting our type as we interperet the standard - producing beautifuly correct, vibrant and intellegent representations of this fabulous breed.
Newborn from our 10/26/09 Karma litter