D'Nude's Naked By Design
Versace'
This page is dedicated to D'Nude's foundation dogs. After several years of rescue work, I fell in love with this wonderfully unique breed. As time passed I began to research full force and spent more than two years before finally choosing the three dogs that would begin D'Nude's Chinese Cresteds. Much of that two years was spent researching breeders, pedigrees and health databases - I wanted solid footing to build upon.
THE MAN
D'Nude's Naked By Design (Versace') was the first to make the cut. He was chosen for his "Regalaire" background and thier fine work towards a sound, healthy, naturally "true" hairless dog while still producing respectable and well placed crest, socks and plume along with their great success in excellent color and pigmentation - fully black lips, eye rims and noses and true blacks that were not fading to silver or blue - something that was and still is very important to me.
AND THE LADIES
Vicson Illicit Affair Of D'Nude (Scandal) and Vicson Dressed To Kill O D'Nude (Fashion) were half sisters, both out of CH. Lou Gin Heads Up were chosen as our foundation bitches for many reasons - overall health in their pedigrees being one - a healthy respect for the Lou-Gin line being another. They each brought something special to the table that I felt was needed for D'Nude's future. These girls were very different while still holding key characteristics that were very consistent - one of the hallmarks I had noticed with the Lou-Gin line. In fact, at maturity, these girls looked so similar, apart from size, that some thought they were the same dog after seeing photos of them with their first litters; consistency that they passed on to their own litters - which was the whole idea! Both girls now have pointed offspring showing in the conformation ring!
Always best of friends - taking an afternoon nap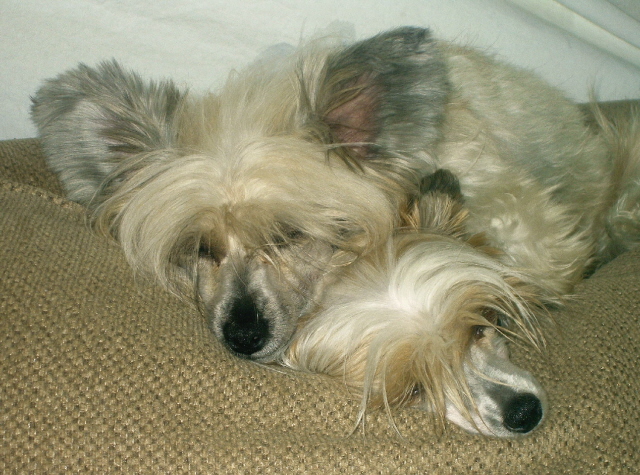 Vicson Dressed To Kill O D'Nude(top) & Vicson Illicit Affair O D'Nude (bottom)