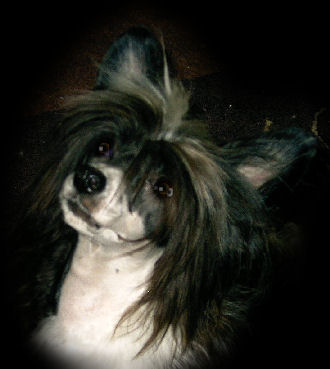 D'Nude's Leather & Lace
Jack, Wynn and Harley before ringtime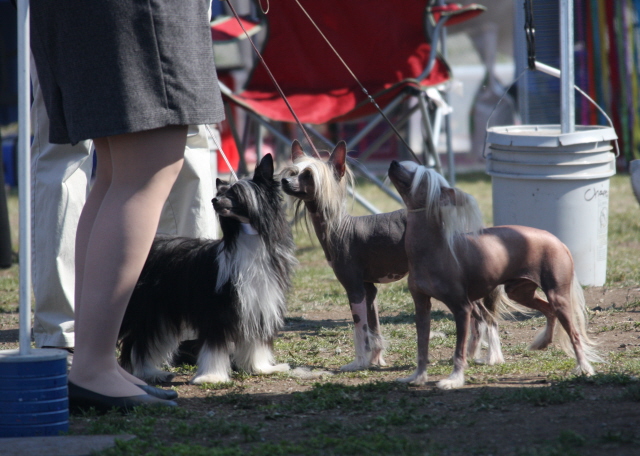 Getting ready to show their stuff! June 28, 2009.
.
<>
Welcome to D'Nude's Chinese Cresteds! We are a small hobby/ show breeder dedicated to both varieties of Chinese Crested dog - the Unique and elegant "Hairless" and the fabulous and plush "Powder Puff". At D'Nude, we emphasize QUALITY, not quantity and as such, have on average only one litter per year and sometimes skip a year if we are in the process of finishing several of our kids in the conformation ring. Our goal is to produce and show healthy and sound cresteds which meet our interpretation of the standard - a fine structured, toy dog with a temperament befitting a companion animal.
We breed first for ourselves, striving to produce our next show champions. We do however, happily share our fabulouse little ones with qualified, loving, permanent homes - both show and pet. All show prospect puppies are placed on show contract and all companion pups are placed on spay/ neuter agreement. We offer a waiting list for those interested in a future D'Nude kid.
Please feel free to browse our site, meet our dogs and learn about this wonderful toy breed. You will find detailed information on both varieties of the breed as well as information on health issues within the breed, socialization, grooming, feeding, the AKC breed standard and a lengthy "Links" page with many valuable resources! Please don't forget to visit each of our kids individual pages - they are the best part of the site!