Karma is gone, but never forgotten. If there is one dog that has had the greatest impact on my heart, it is this little girl. We lost Karma a month before her 6th birthday to misdiagnosed pyometra. Her life and story are too special to be removed from this website. Without her, the D'Nude Chinese Cresteds would not be what they are today. She was outstanding in both body and soul and is missed every single day. We are thankful that we catch glimpses of her in the faces and spirits of her children and grandchildren.
Both Karma's registered and call names couldn't be more true to her. She was the smallest puppy born in the litter - clearly the youngest puppy, gestationally, in the litter. And by small, I mean half the size of her litter mates with a clearly immature appearance - a premie. Karma, though small, was strong and had good sucking reflex and quite a voice! I thought she would be fine and would need no assistance.
When the litter was two days old and appeared to be getting on well, I went back to work. That afternoon, I had the inexplicable NEED to go home and check on the babies. Karma, who had appeared fine that morning, was off by herself, cold, severely dehydrated, stiff and barely breathing. She was warmed immediately under warm running water, wrapped in a heated towel and given glucose to raise blood sugar ASAP. After a few minutes she began to move slightly and was rescue fed glucose water and then formula every hour. By that evening, Karma was again strong enough to suck and was bottle fed from that point out - every hour or two in the beginning weeks. Karma was my constant companion, at work and at home until she was 4 weeks old when she began to stay at home during the day but with me coming home sevral times from work each day for feedings until I got off work and she would pal around with me until bedtime - where I would again get up sevral times each night to a crying puppy screaming "FEED MY LIPS!"
After all this early attention and the resultant FABULOUS temperament, we knew we would never be able to give her up - even if she looked like a drowned rat and could never be shown - she would still always be our little girl - fortunately, that did not happen - she is stunningly beautiful with a lovely expression, dead leavel topline and beautiful headpiece. She also happens to be everything we intentded for when considering these parents for pairing long before they were ever actually bred together (which is another story in itself! We were considering pairing these two at a future date but this was an accidental breeding which occured after Harley took it upon himself to climb a 4.5 foot baby gate and go down a set of stairs he would never before touch and has not touched since! For those of you that have followed my website, you know the storey) She is the epitomy of a GREAT true hairless. Superbly smooth, truly hairless skin with excellent furnishing volume and hair placement.
Karma hanging out with her favorite person!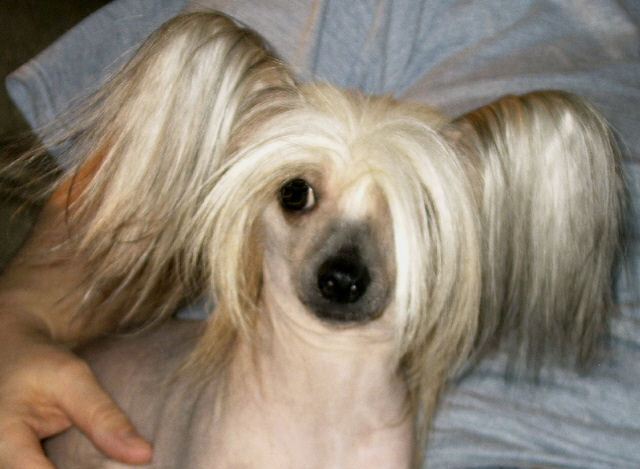 Pictured at 2 years of age. What a beautiful face!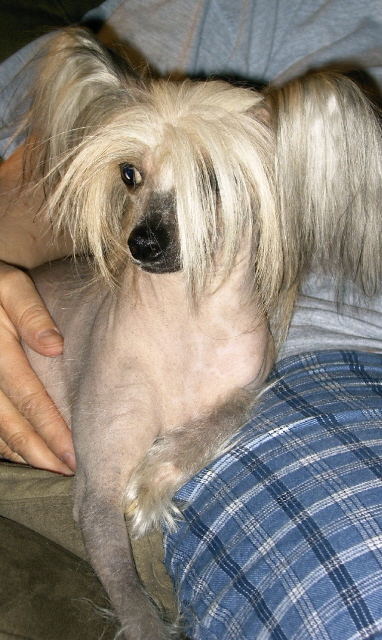 Karma at 14 weeks of age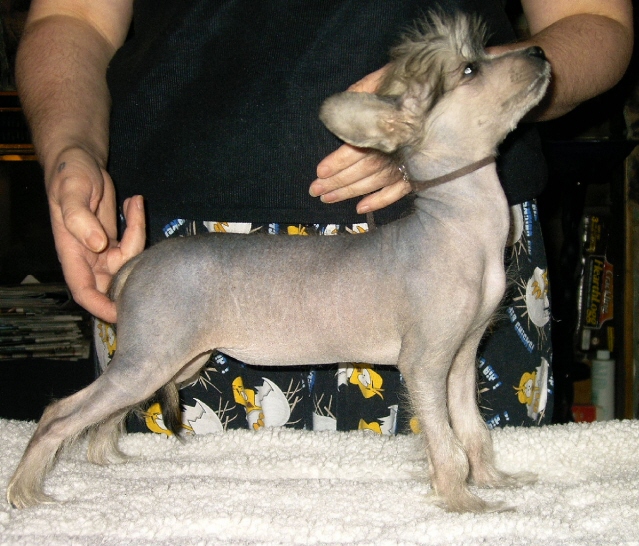 talk about potential!!
Karma preparing for the March 2008 show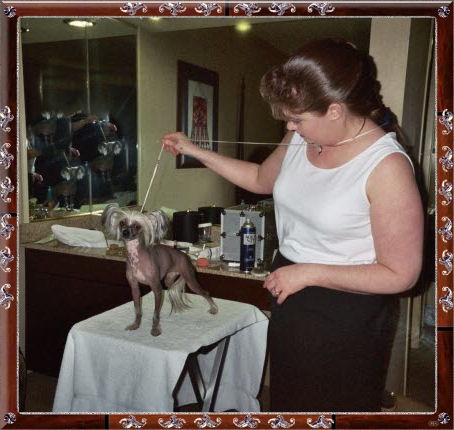 Friends who groom together, win together!
Yep! We won!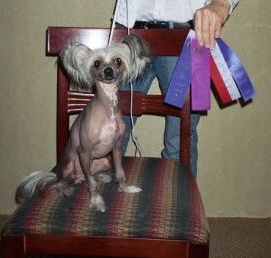 Karma took 1st in class, Winners Bitch and Best of Opposite Sex!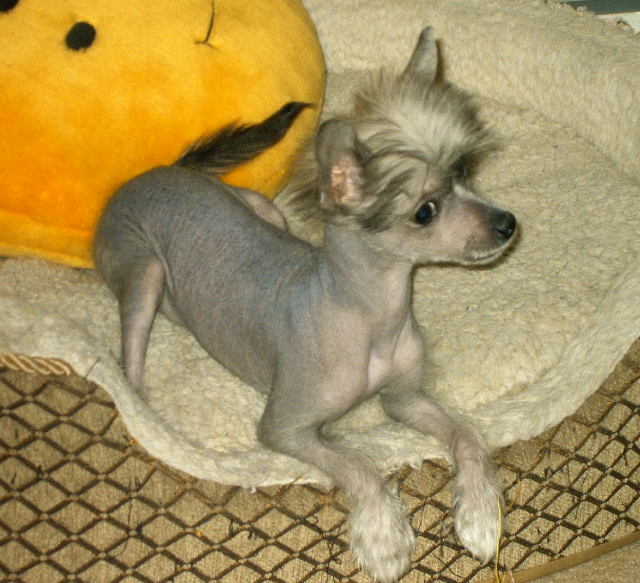 D'Nude's Fate Stepped in at 14 weeks - Just hangin out!
Karma and her sister Bella at 7 Weeks of age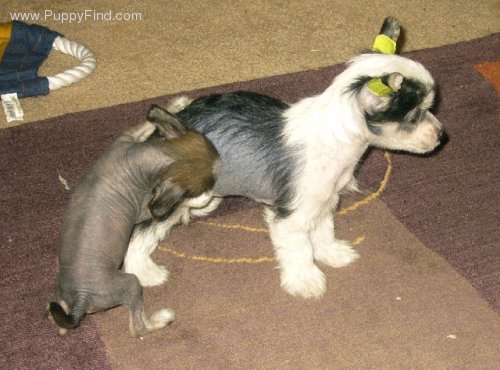 Did I say she was a tiny premie pup or what?! Bella is the same size as the other pups in the litter
Karma and Sterling at 1 week of age
Sterling - the black pup, is the same size as the other pups - look at tiny Karma!